Washington, D.C. — Delaware County Engineer Chris Bauserman joined more than 200 state, local and tribal officials from throughout the U.S. Thursday, July 16, on the South Lawn of the White House for President Donald Trump's review of his administration's ongoing efforts to reduce burdensome federal regulations.
Bauserman, along with Dean Ringle, Executive Director of the County Engineers Association of Ohio (CEAO), attended with a delegation of transportation officials from the National Association of County Engineers (NACE) to support the President's introduction of the National Environmental Policy Act (NEPA). U.S. Vice President Mike Pence, Governor Brad Little (R-Idaho) and Governor Mike Dunleavy (R-Alaska) also provided comments to those in attendance.
"I am honored to be invited to the White House to support President Trump's efforts to reduce over-reaching government regulations that slow transportation projects and hamper our economy," Bauserman said. "President Trump's executive order streamlines and limits the cumbersome approval process for federal transportation projects. The new parameters, focused on limiting review time periods and the scope of federal approvals, will allow road and bridge projects to be built faster and cheaper."
Bauserman added: "In Delaware County, it's extremely important that we expedite transportation projects to meet the safety, mobility and congestion demands of our rapidly growing region, and the President's efforts to streamline the process is welcome news to motorists in our county and throughout our nation."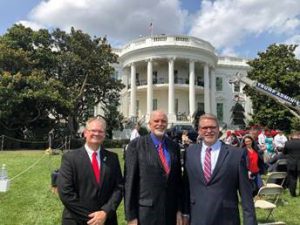 Champaign County Engineer Stephen McCall, CEAO Executive Director Dean Ringle, and Delaware County Engineer Chris Bauserman at the White House event on July 16.