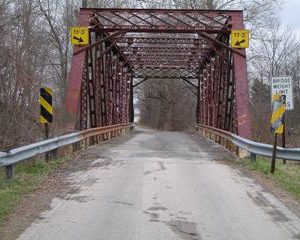 Looking north at the existing bridge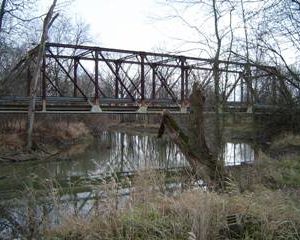 Looking east at the existing bridge
---
Project Description
February 3, 2010: The Delaware County Engineer, in cooperation with the Ohio Department of Transportation, is studying options for rehabilitation or replacement of the Brown Road bridge over Bokes Creek, located about 8 miles west of the City of Delaware in Scioto Township.  The existing bridge, built in 1915, is a Pratt through-truss and has been determined eligible for inclusion on the National Register of Historic Places.  This bridge is currently in poor structural condition and is considered structurally deficient and functionally obsolete by Federal Highway Administration criteria.  The purpose of this project is to maintain the safety of motorists crossing Bokes Creek on TR 176 and to improve the functionality of the bridge.
The County Engineer would like to identify any interested persons or organizations that wish to be consulting parties for the Section 106 (National Historic Preservation Act) process.  The County Engineer has identified two feasible alternatives for the project; one includes rehabilitation of the existing truss bridge and the other includes replacement with a new bridge.  The Engineer's Office would like your input and invites you to submit your feedback by email to brownroadbridge@co.delaware.oh.us. You can also contact the County Engineer's Office by writing to 50 Channing Street, Delaware, Ohio 43015 or by calling 740-833-2431.
Project Background:
The existing 125-foot long Pratt through truss over Bokes Creek was built in 1915 after the flood of 1913 destroyed the previous structure. The bridge currently has a number of deficiencies due to its age and normal deterioration that has happened over its 90+ year life span. The bridge was not originally designed to carry the large, heavy loads that are common today, including school buses, farm implements, fire and EMS vehicles and garbage trucks. Rehabilitation or replacement of the bridge was identified as a high priority project to ensure that adequate transportation is maintained in this area.
Purpose and Need for the Project:
The project consists of evaluating potential structural improvements to address issues with the Brown Road Bridge. It is a Riveted Pratt Through Truss constructed in 1915 and carries one sixteen-foot lane of traffic over a single 117-foot span and has a total length of 125 feet. The bridge is both structurally deficient with a sufficiency rating of 29.2 and functionally obsolete because it fails to meet current ODOT design standards. According to the most recent bridge inspection, the structural deficiencies on the structure include: cracked and missing asphalt wearing surface, deteriorating trusses (rust, cracks, holes), damaged and rusted guardrail, and spalling of the north abutment. These deficiencies have led to a weight restriction of nine tons being posted for the structure. The existing geometric deficiencies on the bridge include both vertical and horizontal clearances.
Project Study Area Map: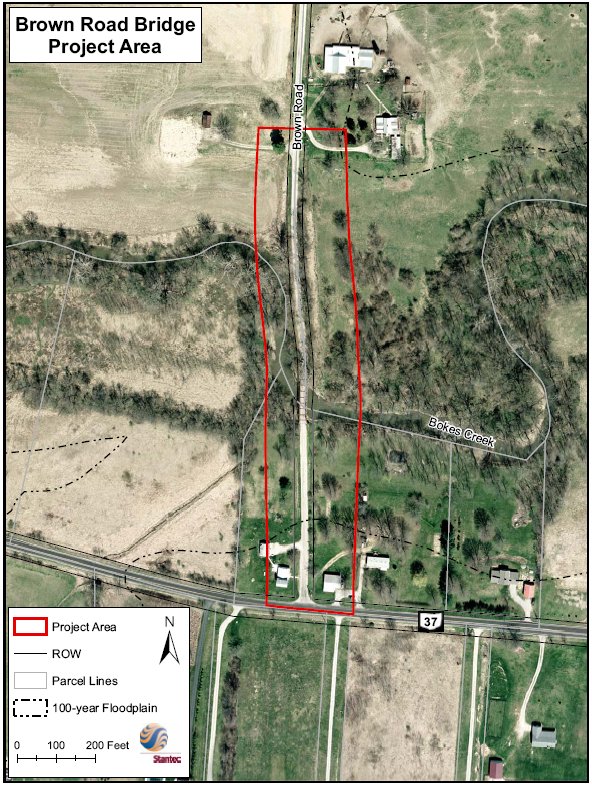 Project Location:
The project site is located on Brown Road (Township Road 176) just north of State Route 37 about 2 miles southeast of Magnetic Springs, Ohio.
---
Cultural (Historic) Resources — Section 106
What is Section 106?
Section 106 of the National Historic Preservation Act of 1966 requires Federal agencies to consider the effects of their actions on historic properties. The 1966 Act created the Advisory Council on Historic Preservation (ACHP), primarily to ensure the federal agencies consider historic preservation issues in project planning. The ACHP developed regulations to implement Section 106 which are outlined in 36 CFR 800. The Section 106 process, used by Delaware County and ODOT for projects receiving federal highway funding, like the Brown Road Bridge project, seeks to incorporate historic preservation values into project planning through consultation among the federal, state and local agencies and other parties with an interest in the effects of the undertaking on historic properties.
Who are the Consulting Parties?
Required Consulting Parties:

State Historic Preservation Office (SHPO)
Ohio Department of Transportation
Federal Highway Administration

Invited Consulting Parties:

Individuals or organizations with a demonstrated interest in the effects of the undertaking on historic properties.
Delaware County and ODOT, in conjunction with the SHPO, will review all requests and applications to be considered a Section 106 Consulting Party. Delaware County will then issue a written invitation to attend the Consulting Party Meeting to be held in spring 2010. Because consultation is a dynamic good-faith process of discussing options, considering multiple views, and seeking agreement among a variety of parties the regular attendance, active participation, and constructive comments from all Section 106 Consulting Parties will be expected throughout the process.
---
Road Closure Information
Traffic will be detoured during construction. Construction is expected to last up to 6 months.
---
Project Schedule
The project is currently in preliminary engineering stage.
Detailed design of the preferred alternative will happen through 2009-10 and purchasing necessary right of way will happen in 2010 and 2011.
Construction is scheduled to begin in summer 2011.
---
Engineering Information
Stantec Consulting Services Inc. has been retained by Delaware County to provide environmental investigations and design engineering services for this project.
---
Construction Information
—
---
Estimated Project Cost
The current project budget is $2.3 million.
Federal local bridge program (LBR) funding is approved for up to 95% of the estimated $1.5 million in construction and construction engineering costs. The remaining project costs will be paid for using Delaware County road and bridge funds.
---
Questions or Comments?
The Delaware County Engineer would like to hear your opinions about the project. Please contact Rob Riley, Project Manager at 740-833-2400 or send your questions or comments to brownroadbridge@co.delaware.oh.us.