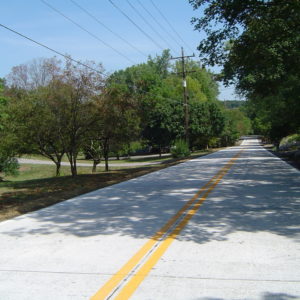 New concrete pavement (looking west toward SR 315)
---
Project Description
Reconstruction of the pavement on Bunty Station Road including pavement overlay between South Section Line Road and Owen-Fraley Road, base reclamation and new asphalt pavement between Owen Fraley and the CSX railroad, and construction of new concrete pavement for a length of 800 feet between the CSX railroad and Liberty Road, and for a length of 1,000 feet west of SR 315.
Project Location and Limits:
South Section Line Road to Olentangy River Road (SR 315). Total project length is about 3.5 miles.
---
Road Closure Information
Phased road closures. Local resident traffic maintained.
---
Project Schedule
Design engineering: 2007-08
Right-of-way acquisition: N/A
Utility relocation: N/A
Construction: August to September 2008
---
Engineering Information
Construction documents prepared by the Delaware County Engineer's Design Department.
---
Construction Information
Construction contract awarded to Shelly & Sands Construction of Columbus, Ohio
Total contract amount $1,425,041.58
---
Estimated Project Cost
$1.4 million