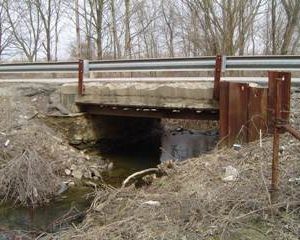 Old concrete bridge, built 1920
---
Project Description
Replacement of a narrow and structurally deficient concrete slab bridge using a precast reinforced concrete box culvert. Roadway improvements will include reconstruction of approximately 400 feet of pavement with improved shoulder grading.
Project Location and Limits:
Claypool Road about 1/4 mile north of S.R. 229, and just south of the Morrow County Line. Project limits are approximately 200 feet north and south of the bridge.
---
Road Closure Information
A temporary bridge crossing will be constructed to carry local traffic only. A posted detour using Peters Road into Morrow County will be provided for through traffic.
---
Project Schedule
Design engineering: November 2007 to March 2008
Right-of-way acquisition: March to July 2012
Utility relocation: July to October 2012
Construction: October to December 2012
---
Engineering Information
Construction documents prepared by the Delaware County Engineer's Design Department.
---
Construction Information
Construction contract awarded to Crawford Construction of Galion, Ohio for $294,863.