Construction Update (03-04-19):
Installation of traffic signal poles will begin later in March 2019 and take about 2 weeks to finish.  We anticipate normal signal operation by mid-April.
Construction Update (07-17-18):
Construction will begin on August 6, 2018 and is expected to require four months to complete.
State Route 3, S. Galena Road and N. Walnut Street are planned to remain open to traffic during construction, but flaggers will be used at times to control traffic for the safety of workers and the traveling public.
---
Project Description
The project will include construction of left turn lanes on State Route 3 at Galena Road and installation of a new traffic signal with a crosswalk and provisions for a future sidewalk or shared use path on Galena Road. This project is a cooperative effort between the Delaware County Engineer, the Village of Galena and the Ohio Department of Transportation.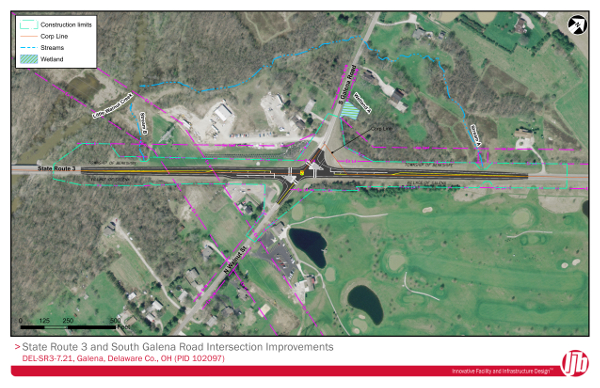 Project Location and Limits:
State Route 3 approximately 1000 feet north and south of the intersection with S. Galena Road and N. Walnut Street. South Galena Road for approximately 400 feet west of S.R. 3 and North Walnut Street for approximately 400 feet east of S.R. 3.
No property acquisition is necessary to complete the construction of the improvements.
Project History:
The State Route 3 and South Galena Road Intersection Improvement project is located in Berkshire Township, as well as partially in the Village of Galena along N. Walnut Street, in Delaware County, Ohio. State Route 3 is classified as an urban principal arterial highway serving regional traffic in Central Ohio. South Galena Road is classified as a rural major collector road. North Walnut Street in Galena is classified as a local roadway. The intersection is currently controlled by a two-way stop.
ODOT performed a safety study at this intersection in 2013 based on a systematic review of high crash locations on State Route 3. The study at that time concluded that safety upgrades were needed and recommended adding turn lanes on State Route 3. In 2015, an update of the study was done showing that traffic volumes warranted installation of a traffic signal.
In 2015, Delaware County, the Village of Galena and ODOT collaborated to prepare an application for funding assistance to implement the recommended improvements. In 2016, about $536,000 in Federal Highway Safety Improvement Program (HSIP) funds were obtained to pay for about half of the cost of the needed upgrades at this intersection.
Later in 2016, Delaware County initiated design of the improvements with a plan to construct the intersection upgrade in 2018.
---
Road Closure Information
To be determined.
---
Project Schedule
Design engineering: 2016-2017
Utility relocation: 2017-2018
Construction: 2018
---
Engineering Information
Construction plans by LJB, Inc. of Miamisburg, Ohio.
---
Construction Information
Construction contract to be competitively bid.
---
Funding Sources:
Federal Highway Safety Improvement Program (HSIP) funds will pay for 50% of the construction cost of the project up to $536,250.
Delaware County will pay for 25% of the construction cost, and will perform construction engineering and testing estimated at $250,000.
The Village of Galena will pay for the remaining 25% of the construction costs.
---
Questions or Comments?
The Delaware County Engineer would like to hear your opinions about the project. Please contact Tiffany Jenkins, Project Manager at 740-833-2400 or send your questions or comments to delcoeng@co.delaware.oh.us. Comments must be received by May 20,2017 to be considered prior to project approval.
The environmental review, consultation and other actions required by applicable Federal environmental laws for this project are being, or have been, carried out by ODOT pursuant to 23 U.S.C. 327 and a Memorandum of Understanding dated 12/11/2015, and executed by FHWA and ODOT.