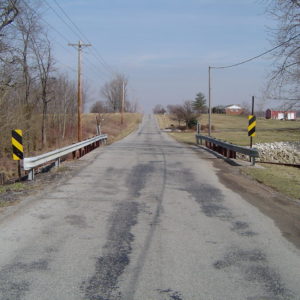 Looking north at old bridge built 1972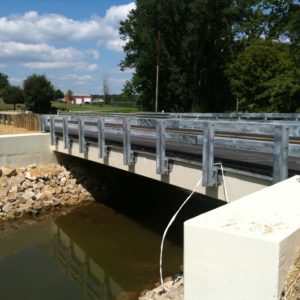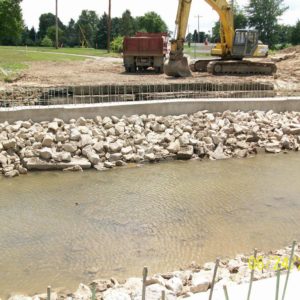 ---
Project Description
Replacement of a structurally deficient steel beam bridge with a prestressed concrete box beam bridge on capped pile abutments. Minor roadway approach widening including guardrail installation and drainage improvements.
Project Location and Limits:
Green-Cook Road about 1/4 mile south of Center Village Road.
---
Road Closure Information:

Green-Cook Road closed for 90 days with posted detour. Traffic to adjacent properties maintained.
04-27-10–Green Cook Road to Close May 3 for 75 days
Green Cook Road will be closed south of Center Village Road beginning May 3 for replacement of the bridge over Duncan Run. The closure will last approximately 75 days. The detour uses Center Village Road to South County Line Road to Fancher Road, and the reverse.
---
Project Schedule
Design engineering: 2007-08
Right-of-way acquisition: 2008-09
Utility relocation: 2009-10
Construction: May to July 2010
---
Engineering Information
Construction documents prepared by the Delaware County Engineer's Design Department.
---
Construction Information
Contract awarded to Crawford Construction Company of Galion, Ohio for $337,726.
---
Estimated Project Cost
$370,000