Project Description
The intersection of Home Road and Concord Road has poor sight distance caused by deficient horizontal and vertical alignment of Home Road. In addition, the bridge on Home Road located just west of the intersection, and the culvert on Concord Road just north of the intersection are in poor structural condition and need to be replaced.
Preliminary traffic projections by the Mid-Ohio Regional Planning Commission show significant population and traffic growth in nearby areas, making this intersection one that will carry additional traffic in the 20 year planning horizon.
Description of the Work:
Construction of a single-lane roundabout and replacement of two structurally deficient bridges.
Project Location:
The project site is located at the intersection of Home Road (County Road 124) and Concord Road (County Road 129) about 4 miles north of Dublin, Ohio.
Construction Updates
05-21-2012: Home Road at Concord Rd to Close May 24 for 9 weeks:
The intersection of Home and Concord Roads will close beginning May 24 for 9 weeks while crews replace an existing bridge on Home Road just west of the intersection and finish construction of the single lane roundabout. The project is expected to be complete in early August.
04-12-2012: Concord Road North of Home Rd to Close April 18 to August 17:
Concord Road will close north of Home Road beginning on Wednesday, April 18 and last through the end of construction on the project. Work on this section of road will include constructing the north approach to the new roundabout and replacing an existing multi-cell culvert bridge.
The next phase of the project is expected to start in May and includes a closure of the entire intersection lasting through August 17 when the project is scheduled to be completed.
03-29-2012: Concord Road South of Home Rd to Close April 2 to August 17:
Concord Road will be closed south of Home Road beginning on Monday, April 2. The closure will last for about 4-1/2 months as crews begin the first phase of a project to construct a single lane roundabout at the intersection of Home and Concord Roads, and replace two existing bridges.
The next phase of the project will include a closure of Concord Road north of Home Road. This will be done after completion of the road base construction on the south leg of the intersection. More information will be provided when the dates of that closure are available.
The project is scheduled for completion on August 17.
October 13, 2011 Project Schedule Update:
Preliminary Engineering: 2009
Final Design: 2010
Right of Way Acquisition: November 2010 to October 2011
Utility Relocation: December 2011 to April 2012
Construction: April to August 2012
November 18, 2009 Project Schematic Plan: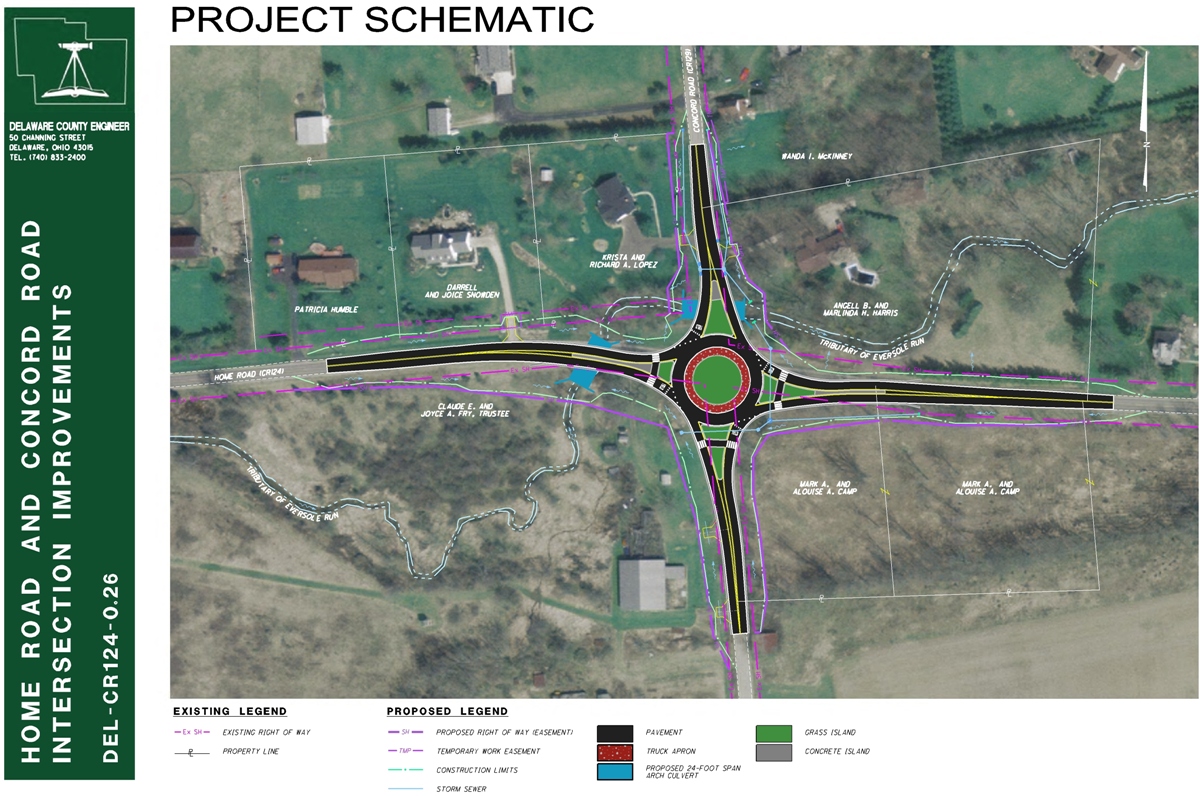 ---
Road Closure Information
Construction will require a phased closure of the intersection over a period of about 4 to 5 months. The north and south legs of Concord Road will be closed first for about 2 months, then the entire intersection will close for an additional 2 to 3 months to complete the project.
---
Engineering Information
Delaware County contracted with Korda/Nemeth Engineering, Inc. of Columbus, Ohio to prepare construction plans.
---
Questions or Comments?
The Delaware County Engineer would like to hear your opinions about the project. Please contact Rob Riley, Project Manager at 740-833-2400 or send your questions or comments to delcoeng@co.delaware.oh.us.