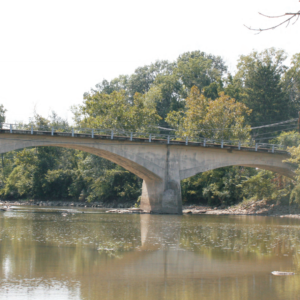 Panhandle Road Bridge over the Olentangy River (Delaware Township) Before
---
Project Description
Replacement of a structurally deficient concrete arch bridge. Rehabilitation of the bridge was considered, however, population growth in the area is expected to create the need for a bridge that is significantly wider than the existing bridge. The existing arch cannot be widened to accommodate the additional lanes that will be needed, so replacement is the only feasible alternative to provide for the continued functionality of this bridge.
Project Location and Limits:
Panhandle Road from U.S. 23 to Hudson Road.
Public Meeting Exhibits
The exhibits that were displayed at the open house are listed below. Please take a moment to review these exhibits and let us know your suggestions about the project by October 25. You can submit your comments by email or letter to the project manager at the address listed below.
Notice of Public Meeting
The Delaware County Engineer's Office cordially invites you to an informational meeting about planned replacement of the Panhandle Road Bridge over the Olentangy River. The County Engineer is considering several different options for aesthetic treatments to the bridge and would like your input. Maps and other information about the project will also be available. The meeting will be held:
Thursday, October 3, 2013 from 4:00 p.m. to 7:00 p.m.
Frank B. Willis Building Conference Room (County Board of Elections Office)
2079 US 23 North
Delaware, OH 43015
The meeting is being held in conjunction with the Orange Township Parks Department Open House and will be in an open house format; you are free to come and go as your schedule allows and there will be no formal presentation. Representatives from Orange Township, the County Engineer's Office and the design consultant will be available to answer your questions about the project. If you are unable to attend the meeting, the information displayed at the meeting will also be available on the Delaware County Engineer's website.
If you need special assistance, please contact Robert Riley, Chief Deputy Engineer, at (740) 833-2400. Any comments you have about the project alternatives should be submitted to the following:
Douglas Riedel, P.E., Senior Project Manager
Delaware County Engineer's Office
50 Channing Street
Delaware, Ohio 43015
delcoeng@co.delaware.oh.us
---
Road Closure Information
The bridge is expected to be closed for about 5 months with a posted detour. Due to the type of construction of the existing bridge, traffic cannot be maintained on the bridge while the new bridge is built.
---
Project Schedule
Design engineering: 2010-13
Right-of-way acquisition: 2014-15
Utility relocation: 2015
Construction: 2016
---
Engineering Information
—
---
Construction Information
—
---
Estimated Project Cost
The estimated construction cost of the bridge is $5.6 million.