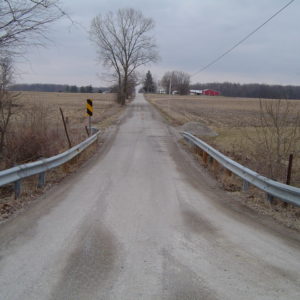 Looking north at old bridge
---
Project Description
Replacement of a structurally deficient steel beam bridge on Porter Central Road just north of Centerburg Road with a precast concrete arch culvert. Roadway approaches will also be rebuilt and the intersection at Centerburg Road will be improved to correct deficient sight distance and the steep grade at the intersection.
Project Location and Limits:
Porter Central Road at Centerburg Road. Reconstruction of Porter Central Road ends about 0.10 miles north of the intersection. Centerburg Road work includes approximately 0.13 miles of reconstruction at the intersection.
---
Road Closure Information
Porter Central Road closed for 60 days. Full intersection closure (including Centerburg Road) for 21 days at the end of the 60 day closure of Porter Central. Traffic to adjacent properties maintained.
04-27-10–Porter Central Road Closed May 3 for 60 days
Porter Central Road will be closed north of Centerburg Road for about 60 days starting May 3 for replacement of a bridge. Work on the intersection at Centerburg Road will begin in late June or early July with a 21 day full closure of the intersection. The detour route uses Fredricks Road.
---
Project Schedule
Design engineering: 2008-09
Right-of-way acquisition: 2009
Utility relocation: 2009-10
Construction: May to July 2010
---
Engineering Information
Construction documents prepared by the Delaware County Engineer's Design Department.
---
Construction Information
Contract awarded to Shelly & Sands, Inc. Columbus, Ohio for $616,970
---
Estimated Project Cost
$660,000