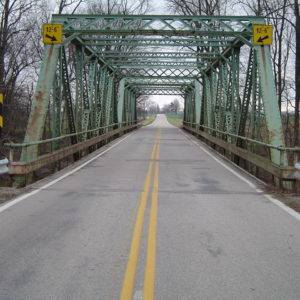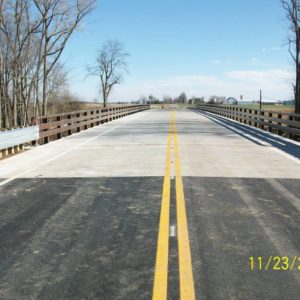 New bridge opened November 22, 2010
---
Project Description
Replacement of the "Lavender Bridge" over the Scioto River. The existing bridge is structurally deficient with a weight limit of 3 tons.
Project Location and Limits:
Radnor Road between S.R. 257 to River Road.
Construction Updates
11-23-10: Radnor Road Bridge Now Open:
The new bridge over the Scioto River is now open to traffic. Work on the $1.5 million project to replace the old 210-foot span was completed ahead of schedule and on budget.
08-06-10: Radnor Road Bridge over Scioto River to Close August 16 for 4 months:
The Radnor Road bridge over the Scioto River will be closed for replacement, beginning August 16. The posted detour uses SR 203 to Hoskins Road to SR 257, and the reverse. Construction is scheduled to be complete in early December.
---
Road Closure Information
Road closed for approximately 4 months.
---
Project Schedule
Design engineering: January 2009 to May 2010
Right-of-way acquisition: March to June 2010
Utility relocation: July 2010
Construction: August to December 2010
---
Engineering Information
Construction documents prepared by Jones-Stuckey Ltd., Inc. of Columbus, Ohio.
---
Construction Information
Construction contract awarded to Complete General Construction of Columbus, Ohio for $1,506,227.
---
Estimated Project Cost
$1.75 million including engineering, right of way acquisition and construction.