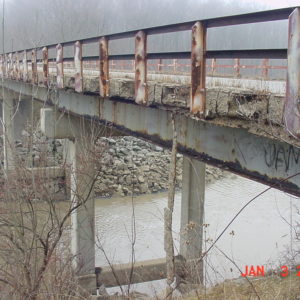 Looking north at the west side of the existing bridge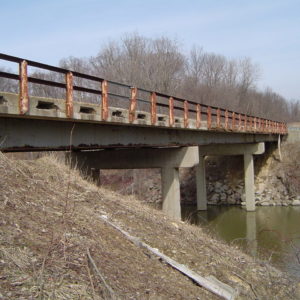 Looking north at the east side of the existing bridge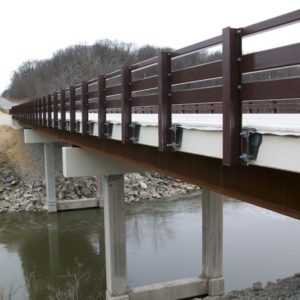 Looking north at the west side of the new bridge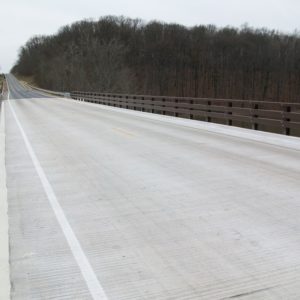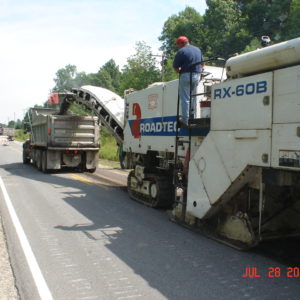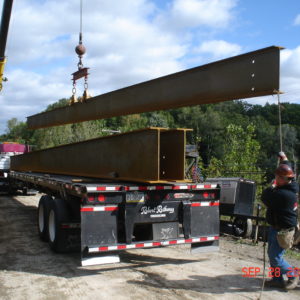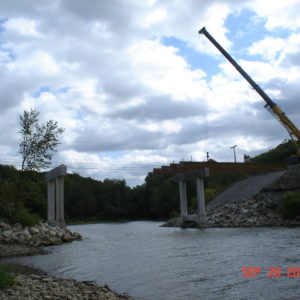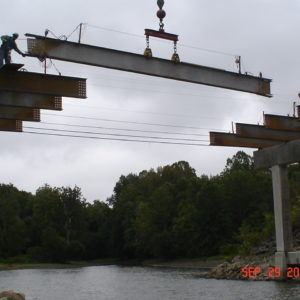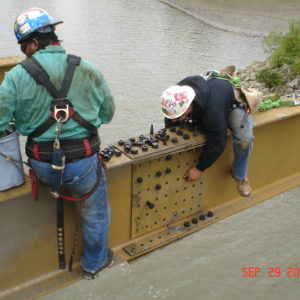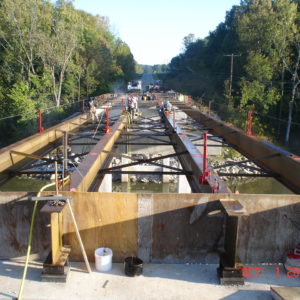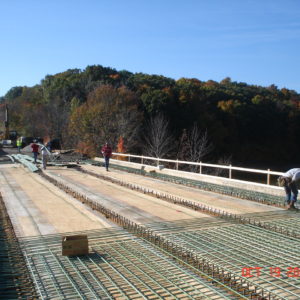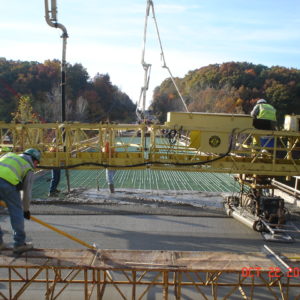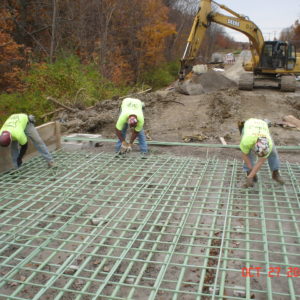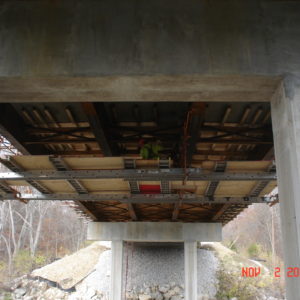 ---
Project Description
Summary of Purpose and Need:
The purpose and need of the project is to rehabilitate the existing bridge to provide a safe and efficient crossing for transportation of people, goods and services to area farms, businesses and residences.
Desirable Goals and Objectives:
Maintain schedule and budget
Minimize impacts to travelling public, neighboring properties and the environment
Conform to standard bridge designs
Project Background:
The existing bridge on Red Bank Road over Hoover Reservoir was built in 1954 as part of the original construction of Hoover Reservoir. The bridge is a three-span steel beam bridge spanning a total of 182 feet crossing Duncan Run, which forms a finger of Hoover Reservoir.
The bridge currently has a number of deficiencies due to its age and normal deterioration over its 50+ year life span. Rehabilitation of the bridge has been identified as a high priority project to ensure that the bridge will continue to serve the growing southeastern Delaware County area.
Project Location:
The project site is located about 2 miles northeast of Westerville, Ohio on Red Bank (County Road 31) about 1 mile north of Smothers Road.
---
Road Closure Information
Full closure with posted detour, using Smothers Road to Harlem Road to Gorsuch Road, or the reverse.
---
Project Schedule
Design engineering from 2007 to May 2009. Construction from between July and November 2009.
---
Engineering Information
The firm of CH2M Hill performed environmental investigations and design services for the project.
---
Evaluation of Alternatives
Conceptual Bridge Alternatives:
Several conceptual alternatives meeting the purpose and need for the project were developed and compared. Only those deemed feasible, both in terms of economic and practical considerations, were advanced further consideration.
Since the roadway work required for each alternative would be nearly identical, the evaluation of alternatives was limited to the bridge, itself.
Listed below is a summary of the conceptual alternatives:
Alternate No.
Description
Feasible?
Comments
1
Reuse existing beams, repair deficiencies, sand blast and paint
No
High cost of lead based paint removal and repair of corroded sections exceeds cost of new beams.
2
4 new beams with existing pier caps
No
Pier caps overloaded.
3
5 new beams with existing pier caps
No
Pier caps overloaded.
4
4 new beams with new pier caps
Yes
More detailed cost comparison warranted
5
4 new beams with existing pier caps

@ HS20 loading

No
Pier caps overloaded – would require additional pier cap build-up, which is more costly than replacing pier cap.
6
4 new beams with new pier caps
Yes
More detailed cost comparison warranted.
Feasible Bridge Alternatives:
The project team performed a more detailed evaluation of the feasible alternatives to closely examine cost benefit and practicality of each alternative. The two feasible alternatives include replacement of existing deck, beams and pier caps and retrofit of existing abutment walls to a semi-integral design. There is little variation in abutment and deck design, so cost analysis focused on the beam spacing and size.
Listed below is a summary of the feasible alternatives:
Alternate No.
Description
Total Initial
Construction Cost
Total Relative
Ownership Cost
4
4-new W33x130 beams @ 8′-4″
$791,000
$851,000
6
4-new W33x118/130 beams @ 8′-8″
$709,000
$818,000 (most feasible)
Based on the evaluation of alternates 4 and 6, it was determined that alternate 6 had a low initial and lower life cycle cost. With no disadvantages compared with alternate 4, this alternative was chosen as the "preferred alternative".
Preferred Bridge Alternative:
The preferred bridge alternative (#6) includes replacement of the bridge superstructure with new 33-inch deep rolled steel beams yielding a minimum deck width of 30-feet to accommodating two 12-foot traffic lanes with 3-foot shoulders. The abutment would be a "semi-integral" design which eliminates the expansion joint at the end of the bridge deck. This is desirable because it eliminates the potential for water leaking through the joint and corroding the steel, as has happened on the existing bridge and many other bridges of similar design. These proposed details would be similar to the bridge on Sunbury Road over Hoover Reservoir constructed in 2006.
---
Estimated Project Cost
Federal local bridge program (LBR) funding is approved for 80% of the estimated $980,0000 in construction and construction engineering costs. The remaining 20% local match will also be provided through federal funding due to Credit Bridge Program dollars that Delaware County has accumulated on other bridge projects that were funded entirely with County road and bridge dollars. Therefore, 100% of the construction and inspection costs will be paid for with federal funds.
---
Questions or Comments?
The Delaware County Engineer would like to hear your opinions about the project. Please contact Rob Riley, Project Manager at 740-833-2400 or send your questions or comments to redbankbridge@co.delaware.oh.us.