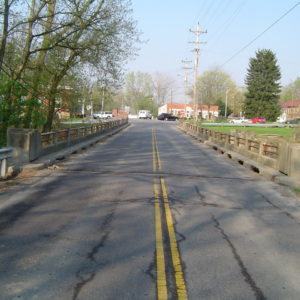 Looking west at the existing bridge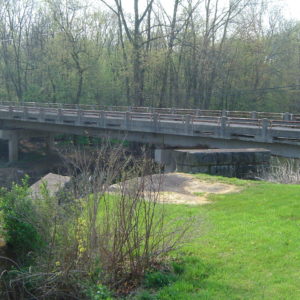 Looking south at the existing bridge (old bridge abutment in foreground)
---
Project Description
Purpose:
Improve the existing bridge over Sunbury Road to provide for and enhance the safety and mobility of area motorists, bicyclists and pedestrian users.
Need:
The existing bridge is structurally deficient due to normal deterioration over its 50+ year life, and is functionally obsolete based on its narrow width and inadequate railing. It does not serve the safety and mobility needs of pedestrians and bicyclists and is approaching a condition that will no longer adequately serve vehicular traffic without major repairs.
Project Background:
The existing 200-foot continuous steel beam bridge was built in 1953 as part of the City of Columbus's Hoover Dam project. The bridge is currently in poor structural condition with notable deterioration of the steel beam superstructure and concrete deck.
Project Location:
The project site is located on the east side of downtown Galena, Ohio.
Construction Updates
09-04-2013: Sunbury Road Bridge in Galena to Close for 36 hours Starting Friday 9/6 at at 6pm:
The Sunbury Road Bridge in Galena, currently under construction, will close to all traffic for approximately 36 hours starting Friday 9/6 at 6 pm for crews to pour concrete for the second half of the bridge deck. The closure is necessary to allow the concrete to cure without damage from traffic loads. The bridge will reopen to westbound only traffic (as currently operating) on Sunday at 6 am. Crews will then have approximately 3 weeks of work remaining before the bridge will be fully reopened to two-way traffic.
03-21-2013: Sunbury Road Bridge Closure Delayed until April 22:
The closure of the Sunbury Road bridge in Galena is being delayed until April 22 to allow for a gas line to be moved off of the bridge. Crews will be on site performing site preparation beginning the week of April 1, but two-way traffic will be maintained until April 22 when the bridge will be closed to traffic leaving Galena.
03-11-2013: Sunbury Road Bridge in Downtown Galena to Close to Eastbound Traffic Starting April 1:
The Delaware County Engineer will begin the bridge replacement project on Sunbury Road just east of the Galena Village Square on Monday, April 1. Construction is scheduled to last through October 1, 2013. Sunbury Road (Columbus Street) will be closed to eastbound traffic (leaving Galena) during this timeframe. The posted detour route will use South Old 3C Highway to Big Walnut Road. Westbound traffic (entering Galena) will be maintained for the duration of the project. Any questions concerning this matter please contact Robert Riley, Chief Deputy Engineer at (740) 833-2400.
Bridge Design:
Several rehabilitation alternatives were considered, including removing and replacing the bridge beams and deck (similar to what was done on the South Old 3C over Hoover Reservoir in summer 2010). None of these alternatives were feasible due to the existing foundations not being able to provide enough support for the additional width needed on the bridge. In addition, the amount of widening that could be done on the existing substructure isn't enough for the safe movement of vehicles and pedestrians. Rehabilitation was been dismissed as not being feasible and a full replacement was designed.
The new bridge will be a two-span concrete beam bridge. The overall width of the bridge deck will be 41 feet and include two travel lanes and a 10-foot separate shared use path on the south side of the bridge.
Six railing options were considered for the new bridge. The railing that will be used is a combination concrete parapet with steel railing. The concrete parapet will be form lined and stained to simulate the appearance of the red clay brick on the old Village municipal building near the bridge. The bridge will also have lighting.
Railing Option A (form lined brick pattern on parapet with twin-steel tube railing)
---
Engineering Information
EMH&T, Inc. of Columbus, Ohio performed environmental investigations and design engineering for this project.
---
Construction Information
Complete General Construction was the low bidder on this project and was awarded a $1.96 million construction contract for this project.
---
Questions or Comments?
The Delaware County Engineer would like to hear your opinions about the project. Please contact Rob Riley, Project Manager at 740-833-2400 or send your questions or comments to delcoeng@co.delaware.oh.us.