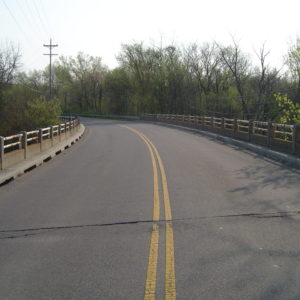 Looking northeast at the bridge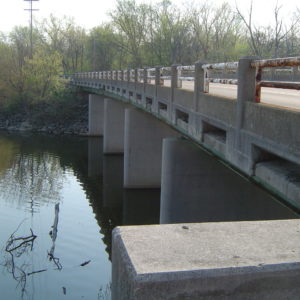 North side of existing bridge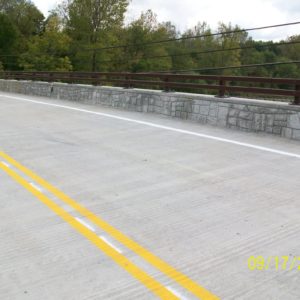 ---
Construction Updates
09-17-10: Old 3C Highway Now Open in Galena
Construction on the bridge over Hoover Reservoir is now complete and the road is open to traffic.
06-18-10:
The Old 3-C Highway bridge over Hoover Reservoir in Galena will close beginning July 6 for approximately 2 months. Traffic will be detoured using Lewis Center Road to S.R. 3 to S.R. 37 (in Sunbury), and the reverse.
---
Project History
The existing bridge was built in 1954 as part of the original construction of Hoover Reservoir. The bridge is a five-span steel beam bridge spanning a total of 197 feet, crossing Little Walnut Creek and the northern portion of Hoover Reservoir. Over the last several years, the County Engineer noted deterioration in the steel beams and concrete deck during annual inspections. This led the Engineer's Office to add the project to the County's Highway Capital Improvement Plan to investigate ways to ways to correct the deficiencies. The project was a high priority to ensure that the bridge will continue to serve this growing area of Delaware County.
---
Scope of Work
Rehabilitation of the bridge including replacement of the deck and superstructure on existing foundations. Minimal roadway approach work. The new bridge has a wider deck providing additional room for vehicular, pedestrian and bicycle traffic.
---
Road Closure Information
Closure with posted detour using Lewis Center Road to State Route 3 to State Route 37, and the reverse.
---
Project Schedule
Preliminary engineering: May to July 2009
Final design (through design-build contract): November 2009 to May 2010
Construction: July to September 2010
---
Project Funding
Federal stimulus infrastructure funding provided through the Mid-Ohio Regional Planning Commission (MORPC) allocation of the American Recovery and Reinvestment Act of 2009 was used to pay for 100% of construction and final engineering of the improvements.
---
Engineering Information
EMH&T, Inc. of Columbus, Ohio performed preliminary engineering and environmental studies for this project.
---
Construction Information
Design-build contract awarded to the team of Double Z Construction and Resource International for $659,753.
---
Purpose and Need of Project
The purpose of this project is to provide for the safe and efficient movement of vehicular and pedestrian traffic on South Old 3-C Highway over Hoover Reservoir by:
Improving structural capacity of the bridge, and;
Correcting roadway geometric and safety deficiencies in accordance with current design standards.
The bridge is classified as "structurally deficient" according to National Bridge Inspection Standards due to deterioration of the steel beams and concrete deck. The roadway width of the bridge is less than the required minimum prescribed by current design standards. In addition, the existing bridge railing is not an approved crash tested design.
---
Evaluation of Alternatives
Conceptual Bridge Alternatives:
Several conceptual alternatives meeting the purpose and need for the project were considered for the project, including a full replacement of the bridge, however, were not deemed feasible for further analysis.
| | | | |
| --- | --- | --- | --- |
| Alternate No. | Description | Feasible? | Comments |
| 1 | No-build option | No | Continue to maintain bridge in current state until repairs are no longer possible, then close the bridge to all traffic and post detour. Does not satisfy the Purpose and Need. |
| 2 | Major rehabilitation | Yes | Superstructure replacement with minimal work to abutments and piers. Estimated project cost $1.5 million. |
| 3 | Full replacement – same alignment | No | Estimated project cost $3 million well in excess of Alternate 2, which meets Purpose and Need. |

Feasible Bridge Alternative #2 (Major Rehabilitation):
The only alternative deemed feasible that satisfies the Purpose and Need of this project is a major rehabilitation including replacement of the bridge beams, deck and modification to the abutments. The rehabilitation costs significantly less than a full replacement and meets all applicable current roadway and bridge design standards.
Typical bridge section (standard parapet railing shown – other options are available and being considered):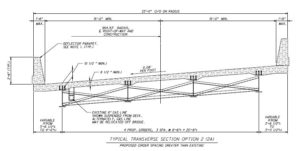 ---
Questions or Comments
The Delaware County Engineer would like to hear your opinions about the project. Please contact Rob Riley, Project Manager at 740-833-2400 or send your questions or comments to old3cbridge@co.delaware.oh.us.